Property № HORSZL:
Attractive apartments on first line in Sozopol
Apartments
, Sozopol
Property Request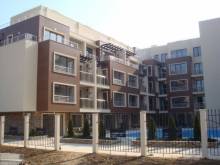 Location
:
Sozopol
, Resort
Price From :
EUR:
47592
Living area
: 52.88 sq. m.
Road
: Asphalt
View
: sea
Offer type
: For sale
Floor plans and prices
Description
We offer apartments for sale in a Complex "Horizon-Sozopol", situated on the first line to the beach, right next to the water slides.
Why "Horizon-Sozopol"?
- Situated on the first line to the beach.
- On sea shore within 30 meters from the sandy beach.
- Attractive architecture and good apartments planning
- 96 apartmens available in complex
- Underground parking for 73 cars
- Restaurant, swimming pool, child care and tennis courts
- Developed infrastructure around the project
- Beautiful landscaping architecture
- 24/7 all year round maintenance and security
- Rental management opportunity
Complex is finished april 2009.
Situated on the Black Sea coast, only 30 km from Burgas, Sozopol attracts thousands of tourists from all over the world. The town is a unique combination of beautiful beaches, ancient architecture in the old part and comfortable, modern hotels in the new part. The famous cultural forum of Bulgaria, called "Apolonia" is held here each September.
Sozopol is the most ancient town on the Bulgarian Black Sea coast. The first settlement appeared here back in 3000BC. In 610BC an Ellian colony was founded here by a Millet Greek Apollonius Pontica. The town was growing and developing as a trade and port center. It was maintaining active trade relations with Greece. This Bulgarian town soon became the center of a very fine art. It was also called Apolonia Magna (The Great Apolonia) 72BC the town was occupied by the Romans and its fortification wall was destroyed. 400AD the town was again rebuilt and since then it is known as Sozopolis (The Town of Salvation). This traditional Byzantine town was the rear fortress of Constantinople. In 812 AD with the ruler Han Krum, Sozopol for a short while became a part of the Bulgarian state. Since then, a large number of churches, wooden and stone houses create a unique architectural atmosphere of contemporary Sozopol.
Sosopol offers a great infrastructure and an easy access to Burgas international airport. The air temperature during the summer reaches 28-35 degrees and the water 25-28 degrees. The active tourist season starts from early June and finishes in September. The new owners in "Horizon-Sozopol" will enjoy a unique atmosphere of old Sozopol and feel the sea breeze coming from Harmani Beach each time when they step out on the terrace of their apartment.