Property № RMSB:
New attractive apartments in Sunny beach
Apartments
, Sunny beach
Property Request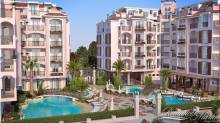 Location
:
Sunny beach
, Resort
Price per sq. m.
: 36179 EUR
Living area
: 37,25 sq. m.
Road
: Asphalt
Offer type
: For sale
Floor plans and prices
Description
Romance Marine and complexes Rainbow are situated in the most beautiful Southern part of the resort of Sunny beach. Close to them is CACAO beach, which turns to be emblematic for the region with exclusive chance of sunbathing, relaxation and entertainment. The region has the unique dune Beach Park and greenery 500 acre in size, forming beautiful free zone keeping away builders of first line projects. The closeness of the beach in addition to the park gives Romance Marine incomparable advantage.
15 minutes walk is the only barrier between Romance Marine and the town of Nessebar. The ancient town of Nessebar is a monument of culture on a beautiful semi island which makes it suitable of being part of the UNESCO's list of world cultural heritage. Nessebar is one of the oldest towns in Europe and one of the most enriched of architectural monuments from medieval times in Bulgaria. Owners of Romance Marine will have the incredible privilege to be so close in their everyday lives to a three-century history, written through the centuries by ancient civilizations like the Thracian, The Greek, The Roman and The Old Bulgarian.
25 km away from Sunny beach and Romance Marine the city of Bourgas and Bourgas airport are situated. The modern and beautiful Bourgas was chosen for the best city to live in Bulgaria for 2011. By rent-a-car, taxi or 20-minute bus ride whatever Bourgas offers its residents or guests is available for clients of Romance Marine.
The two new buildings (building Romance and building Marine) will implement and enrich complex Rainbow with more attractions and original Mediterranean architecture, borrowed from one of the best examples on the French Riviera. Romance Marine gives variety of a choice – from small summer Studios, comfortable apartments with 1 or 2 bedrooms to beautiful maisonettes and unique apartments with double height of the living rooms and spacious porches shaping incredible penthouse suites.
The project will be finished in Mediterranean form, imprinted with soft crayon tints, bathing in greenery and precise ornamentation. Inspired by the architectural richness of the French Riviera following every detail we will do our best to embrace owners of Romance Marine with the cozy charm of Saint Trope or one of these paradise places around Nice. Arches, crayon colors, aging tiles, flowers, palms, olives, clock tower – this is the spirit of Romance Marine.
Infrastructure available for owners and guests:
• Children aqua park
• Indoor swimming pool
• Spa, sauna, Turkish bath, fitness hall
• Italian restaurant
• Traditional Bulgarian restaurant – outdoor BBQ
• Karaoke
• Supermarket
• Children playground with animators
• Outdoor Jacuzzi
• Beach volleyball or football field
• Mini golf field
• Water POOL-bar
• Massage studio
• Billiard hall
• Lobby bar
• ATM and Change bureau
• Option for sunbathing at our first line beach of Golden Rainbow
• Own hunting area 60 km away from Romance Marine and guest mansion
The complex with all indoor extras will be available all year round as the indoor swimming pool will be headed south, will be heated and will be proper for sports swimming with over the counter course.
The buildings will be opened from the South in harmony with amazingly green yard and two outdoor swimming pools, decorative beach line, one indoor swimming pool and a children aqua park.
All this will be subtly implemented and combined with the already built buildings contributing for an even cozier vision and harmony of the complex. The construction work will start on January 2012 and finish at 28 June 2013.
The buildings will be monolithically created out of natural materials, brick walls, finished with plaster and putty and multilayer thermal and sound insulation, aluminum or PVC joinery with interrupted thermal bridge. Italian railing out of wrought iron. Natural rocks travertine on the facades. Italian aging tiles.
Apartments will be finished entirely, fully equipped with inverter air conditioners, fully built bathrooms with glass shower cabins or baths, accessories, exterior or interior doors. The floor will be Italian parquet floor with special fiber pad.
Amenities
Airport

Bus Station

Taxi

Petrol Station

ATM
ATM

Shop
Shop