Property № AFRR:
New bargain apartments in Sunny beach
Apartments
, Sunny beach
Property Request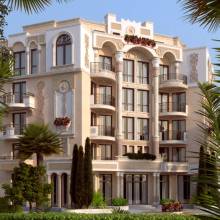 Location
:
Sunny beach
, Resort
Price :
EUR:
22066
Floors
: 6
Living area
: 25,96 sq. m.
Road
: Asphalt
Offer type
: For sale
Floor plans and prices
Description
«Aphrodite Rose» - this is a profitable investment in real estate prices, this is the best family vacation in Sunny Beach, full of joy and comfortable living. Today is an unique opportunity to purchase a luxury beach homes at a low prices! Building «Aphrodite Rose» will consist of two sections - A and B. The apartments are fully finished and ready for a comfortable stay .
In the construction and finishing of only materials of the highest European quality :
- External walls : brick «wienerberger-poroterm»;
- Internal walls : brick «wienerberger-poroterm»;
- Refurbishment «Baumit»;
- Walls : Lime mortar , then plaster .

In construction of «Aphrodite Rose» complex will be used fancy ornaments on the outer walls as well as a silent hydraulic lift "Luxury" Company «IZAMET».

Six-storey building «Aphrodite Rose» has small studios to large size apartments with one or two bedrooms. Most apartments have a beautiful view to a huge green park .

Services and facilities, which will be provided in thecomplex :
- Large swimming pool with extra space for the kids with lot of entertainments ;
- Pool bar ;
- Jacuzzi ;
- Public spaces with unique interior design ;
- Modern fitness ;
- Access to Wi-Fi internet throughout the complex ;
- Beautiful indoor garden ;
- Football field ,
- Volleyball field,
- Table tennis ,
- Billiards ;
- Playground ;
- Parking ;
- 24 - hour security and video surveillance of the property;
- Year round service and property management in the complex.
Without furniture

Payment plan – Option A

Deposit - € 2000

40% up to 20 days, prior agreement

30% - upon reaching the floor level

15% - Act 14






15% Act 15, deed






Payment Plan - Option B - 7% discount

Deposit - € 2000




80% up to 20 days, prior agreement

10% - Act14






15% - Act 15, deed






Payment Plan - Option C




Deposit - € 2000




45% up to 20 days, prior agreement






Contributions up to 3 years




25% - first year




20% - second year




10% - third year




















Amenities
Airport

Bus Station

Taxi

Petrol Station

Shop
Shop